Split System Air Conditioning Sydney Experts
Split system air conditioning sales, installation and service specialists. We install 1000s every your to happy customers in Sydney so call us today!
Frost Air Split System Benefits
We supply and fully install all major brands of split system air conditioners
Frost Air specialise in split system air conditioning
Fujitsu – Mitsubishi – LG – ActronAir – Daikin
For Your peace of mind – professional team headed by installation manager and co-ordinator to answer all your queries
15 service vehicles – installation, warranty repairs and service
Free Quotes!
Air conditioning Sydney since 1971
Call Frost Air now and become one of our happy customers today – 02 9634 5999.
==> See our current Split System A/C SPECIALS PAGE **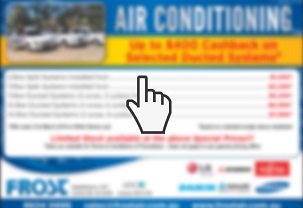 ---
These wall mounted units are stylish and slim, with total comfort and ease of operation. A split system comprises of two units; the evaporative fan coil and the outdoor condensing unit.
The term 'split' refers to the fact that the two units are separated. This allows the condensing unit to be located virtually anywhere outside. Available in a range of capacities and either reverse cycle or cooling only.
Features:
Auto Cleaning
Auto Changeover
Sleep Timer
Quiet Operation
Remote Control
Soft starter
Note: Features may vary between each model
Plasma a/c Filter
This unique Plasma filtration system uses an efficient ionising filter that removes more odours, dust and allergens from the air than standard air conditioning units.
Inverter Split Systems
The Inverter range reaches the desired room temperature faster and then constantly adjusts to maintain perfect comfort. This makes the Inverter Units more economical, quiet & efficient to operate.
==> Frost Air are split system air conditioner installation specialists so CALL US TODAY ON 02 9634 5999 .
---
How does split system air conditioning work?
We all appreciate a good reliable air conditioning system (ac) that keeps us cool in summer and nice and warm in winter. Most of us do not pay all that much attention to how the process actually works and that is understandable unless you are in the market to buy a new a/c system or you need your existing system serviced or repaired. Air conditioners capable of cooling and heating are called reverse cycle. Although there are units that will only perform cooling, most modern installations will have both hot and cold cycles included.
This article will focus on the process and features of air conditioning cooling; however the workings are the same with heating except that the temperature exchange is in the reverse order. The cooling method is very similar to the workings of the refrigerators and the main and obvious difference is that refrigerators cool the cold box where split system air conditioner for example is designed to cool insides of a single room.
This process of chilling the indoor is achieved by converting liquid into a gas that becomes very cold. Room air is propelled over this cool refrigerant in turn converting the heat from the air into this gas resulting in room cooling. This air is then just simply fan forced into the room, keeping its occupants much more comfortable. The refrigerant gas is then transformed back into its liquid form so the process can be repeated over and over again.
Split system air conditioner uses a thermostat to regulate the air temperature; it uses the built-in filters to remove air particles at the same time. Another important function that is often forgotten that makes air conditioning installation worthwhile is its humidity reducing capability. As the humidity is drawn away from the passing room air, this moisture is released via small drain pipes that are part of every installation. This gives air conditioners their dehumidifying feature.
Easy way to describe the split system air conditioner installation would be to divide it into 2 parts; this is where its name comes from. The cold side is fitted inside of the room and is therefore the most visible part of every installation. The second part is located outside of the building and this so called hot side is a condenser or a heat exchanger. As the name suggests, the warm air that was collected from the inside of the building is now released into the atmosphere.
For more comprehensive cooling of the whole house or a building, ducted air conditioning is the right choice. The cooling principle is the same, however the cold air is distributed throughout the house via the system of ducts to every room where split system ac units are designed for a single area.
---