Coronavirus (COVID-19) Update
We would like to confirm that Frost Air Conditioning is currently operating and closely following the recommendations of the Australian Government & NSW Health Department.
We are taking the recommended precautions to ensure the safety of our staff, clients and suppliers.
We have advised all staff to regularly wash their hands, report any circumstances that they feel may compromise their safety or others and we are also practicing social distancing in our workplace and advising staff to work remotely where possible.
It is a very challenging time for all of us and we all need to work together to ensure we all safely come out the other side at the end of this unfortunate global pandemic.
If anyone has any questions please call our office on 9634 5999 and ask to speak to the relevant Manager.
All Major Brands – Ducted & Split Air Conditioning Sydney
Frost Air is one of the most experienced Air Conditioning supply, installation and repairs specialists in Australia. We have been providing Sales, Service and Maintenance to Domestic, Commercial and Government Clients since the company was established in 1971.
Reasons to choose Frost Air conditioning Sydney
We have been in business in Sydney since 1971
We have 20 service vehicles on the road to assist with any warranty breakdowns & general service work
We are an approved NSW Government Supplier for Air Conditioning works up to $1 Million under Scheme Id: SCM0256
We can supply all the major brand air conditioners
LG NSW Dealer of the Year for 2015, 2016, 2018 + Fujitsu NSW Dealer of the Year for 2015
We have totally professional installation teams and an Installation Manager & Co-ordinator in the office to handle any queries regarding your installation
We install over 600 Ducted air conditioners and 1500 Split Systems per year
We have an immediate supply of stock
Great Prices, Excellent Service and Quality Workmanship
Air Conditioning can be one of the most economical ways to heat your home in winter & cool your home in Summer. Call us now to arrange for one of our experienced specialists to visit your home or office to advise you on the best options for your situation and budget. We provide expert advice on a large range of air conditioning systems at extremely competitive prices in the Sydney Metropolitan area.
==> Visit our current SPECIALS and PROMOTIONS PAGE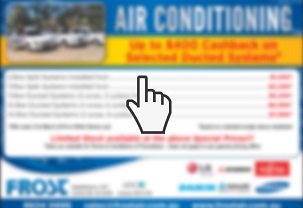 Now is also the ideal time to get your current unit serviced giving you savings on your running costs. Call the Frost Air Maintenance Department for fast, friendly service on 02 9634 5999.