We are Actron Air Conditioning Experts in Sydney
Frost Air Conditioning Benefits
We specialise in supply and full installation of Actron Air air conditioning systems
15 service vehicles – installation, warranty repairs and service
Frost Air are experts at latest Actron Air energy efficient ESP Platinum, ESP+ and ESP Ultima Ducted A/C models
For Your peace of mind you get a professional team headed by Installation Manager and Co-ordinator to answer all your questions
Installing Actron Air conditioners in Sydney since 1971
==> Visit our current ActronAir SPECIALS and PROMOTIONS PAGE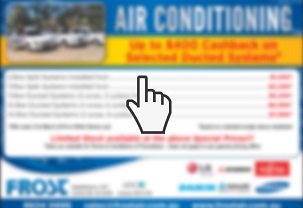 ---
There is nothing like ducted air conditioning to deliver year-round comfort to your home and family. Living in one of the harshest climates on earth such we have in Australia, will require a system that's built to handle it properly while saving on your energy cost. ActronAir ducted systems are engineered to operate at temperatures from as low as -10 and up to 50 degrees Celsius.
This is why you can rely on Actron Air system to continue performing even on the hottest summer days for years to come. Is this really true and is Actron Air truly Australian for air conditioning as their marketing slogan tells us?
It turns out that Actron Air has features that make it one of the most efficient and quietest air conditioning reverse cycle systems in the world. They were designed specifically for Australian houses. This is a comforting thought as when we are comfortable we are happy.
Actron Air ducted air conditioning comes in two main models being ESP+ and ESP Ultima. As well as providing comfort all year round, the ESP range can intuitively adjust capacity from 100% down to 10%. ESP plus model lowers the energy use even further thanks to variable fan technology.
---
Nice to Meet QUE
The world is constantly evolving, and we need to evolve with it. Why should controlling your comfort be any different?
QUE is the most advanced integrated home air conditioning control platform yet. QUE's high quality components, sleek modern design, and easy to use interface brings home air conditioning controls into the 21st century.
However, ActronAir believe that it's not enough to simply dress up the same old features with a nice new design. That's why QUE is so much more than just a pretty face, featuring a touch screen comparable to the latest in smart phone technology, individual comfort control built in, integrated zoning that is flexible to suit your needs, wireless zone controllers and room sensors, a unique service dashboard, and a mobile app built in as standard.
It's also a control platform packed full of innovations and features, a platform that will evolve with you and continue to adapt and grow long into the future.
---
ESP Platinum Series is the most advanced residential ducted air conditioning systems ever built in Australia.
With ESP Platinum Series you have comfortable air conditioning with lower running costs
Ideal for those who appreciate high levels of comfort coupled with low running costs
Save up to 75% on running costs versus conventional fixed speed technology
Reverse cycle ducted system with Tru-Inverter™ technology for year round comfort
ESP Platinum Series can be configured to suit most lifestyles with up to eight zones
Energy Smart Zoning feature – with minimal zone operation to save energy
Ideal for both residential and commercial applications
ESP Platinum Ultima can be configured with up to eight individual temperature zones.
Actron Air ESP+ A/C Model
In ordinary air conditioning systems the fan runs at one speed and uses a lot of energy, where with ESP+ fan speed and energy use adjusts to suit the owners need. This is perfect for summer nights when you want just enough air conditioning to keep bedrooms quiet and cool. Currently on the market, only Actron ducted air conditioning has variable fan technology.
This is why ESP+ can reduce energy consumption by up to 60% keeping you cool in summer, warm in winter and at the same time keeps the power bills down. This is why it was recognised for environmental innovative product of the year by Cool World Industry Award.
Actron Air ESP Ultima A/C Model
No matter what the Australian climate is doing outside, Actron Air seems to give ultimate solution in climate control inside of your home. This becomes very prominent when we look at ESP Ultima model. At different times of the day, different parts of the house get hotter than others. What's more, different family members prefer different temperatures.
What ActronAir Ultima has over ESP plus is that you can have different temperatures in different parts of the house and all this at the same time. With ESP ultima unit, it is possible to divide your home into up to 8 zones. So, whether it is a rumpus room, a hot kitchen or a relaxed living area, ESP Ultima's individual zone controls lets you set the temperature you chose and deliver ideal environment for any activity.
---