Ducted Air Conditioning Sydney Specialists
Specialists in ducted air conditioning sales & installation of over 600 systems every year to happy customers in Sydney. Best prices and all trusted brands!
Frost Air Ducted Air Conditioning Benefits
We supply and fully install all major brands of ducted air conditioning systems – over 600 every year!
Frost Air specialise in ducted air conditioning sales and installation
Fujitsu – Samsung – Mitsubishi – LG – ActronAir – Daikin
15 service vehicles – installation, warranty repairs and service
For Your peace of mind you get a professional team headed by Installation Manager and Co-ordinator to answer all your questions
Air conditioning Sydney since 1971
Free Quotes!
==> See our current Ducted A/C SPECIALS PAGE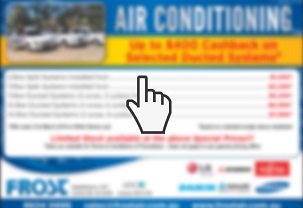 ---
A Ducted A/C systems provide air conditioned comfort to new and existing homes. This means you can enjoy climate controlled comfort all year round, all round the house.
Ducted reverse cycle air conditioning is designed to air condition every room of a house or office. The fan coil is installed in the ceiling space and connected via small pipes to the outdoor unit. The fan coil pumps the conditioned, dehumidified air through flexible ducting to ceiling diffusers located in each room. Available in a range of capacities with three speed fans to deliver the required volume of air.
Zoning:
A ducted heating and cooling systems are zoned to enable you to select the area of the home or office that is to be air conditioned.
A typical layout may be:
Zone 1: Bedrooms
Zone 2: Kitchen and Family Room
Zone 3: Dining and Living Room
Features:
Concealed Installation
Perfect comfort throughout every room
Reverse cycle heating & cooling
A selection of outlets to choose from
Wall Controller
Inverter Ducted Systems
Through new, advanced technology, the Inverter Ducted Systems are more economical to operate and quieter to run than conventional units. They can handle greater extremes in temperature, are smoother and more stable in operation and reach the desired temperature more quickly than conventional air conditioners.
The Inverter component allows the outdoor unit to vary its speed and output to match the required capacity of the indoor unit. Thus, the Inverter model can achieve 30% more operating efficiency than conventional models and therefore, is much cheaper to run.
To discover how Frost Air can make this new comfort possible, CALL 02 9634 5999 TODAY!
Call us now and become one of our happy customers today – 02 9634 5999
Frost Ducted Air Conditioning Sydney
---